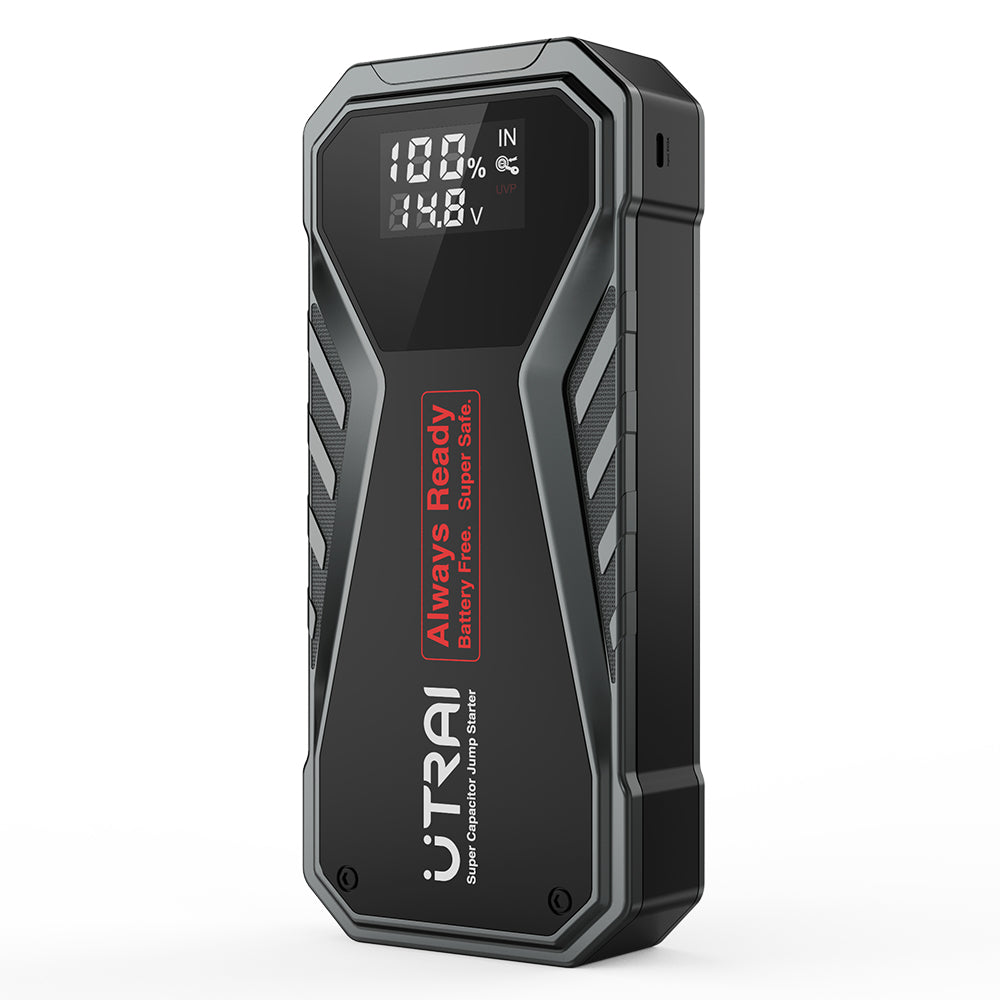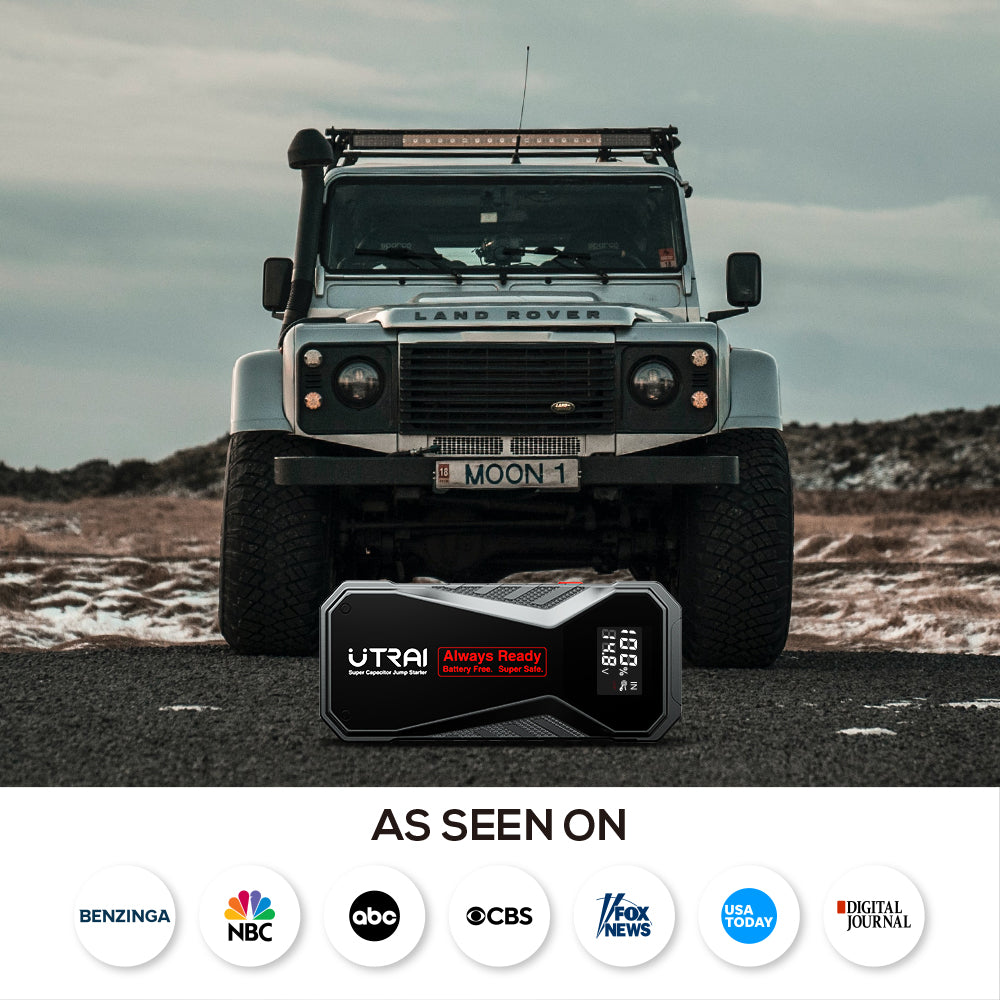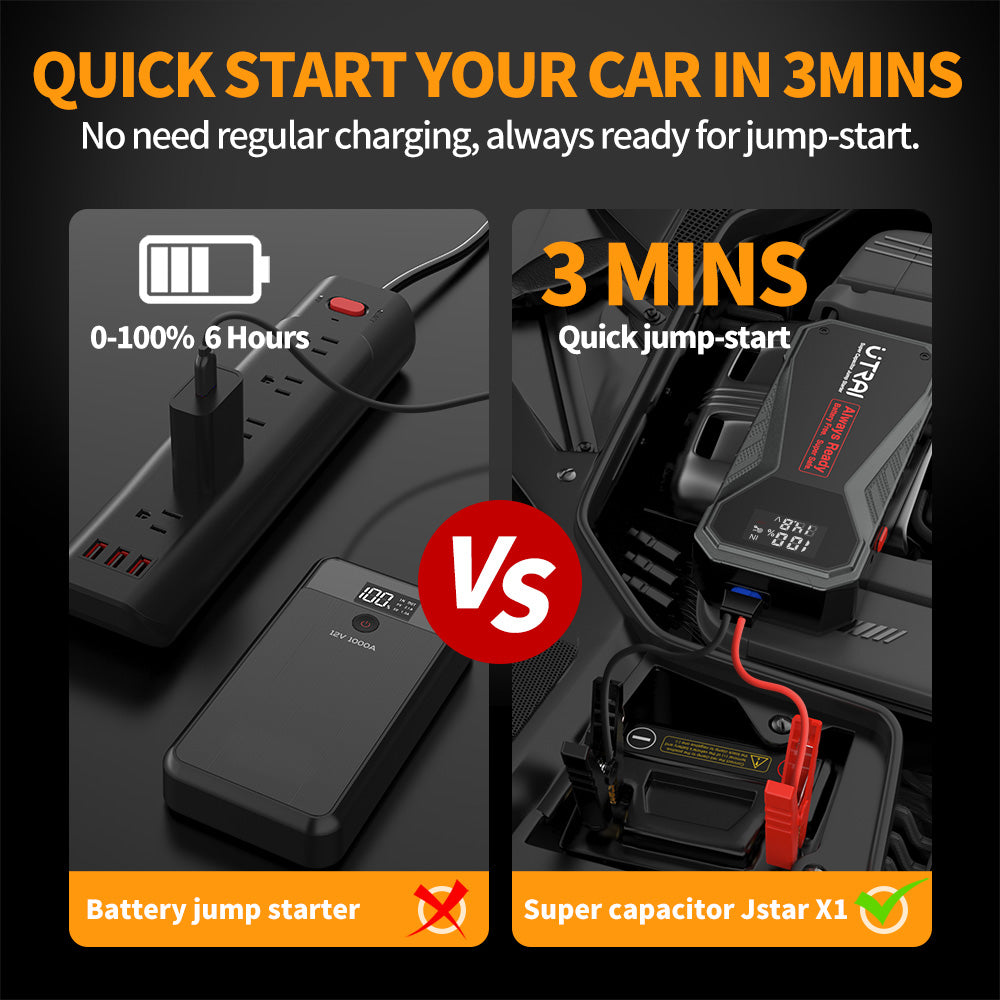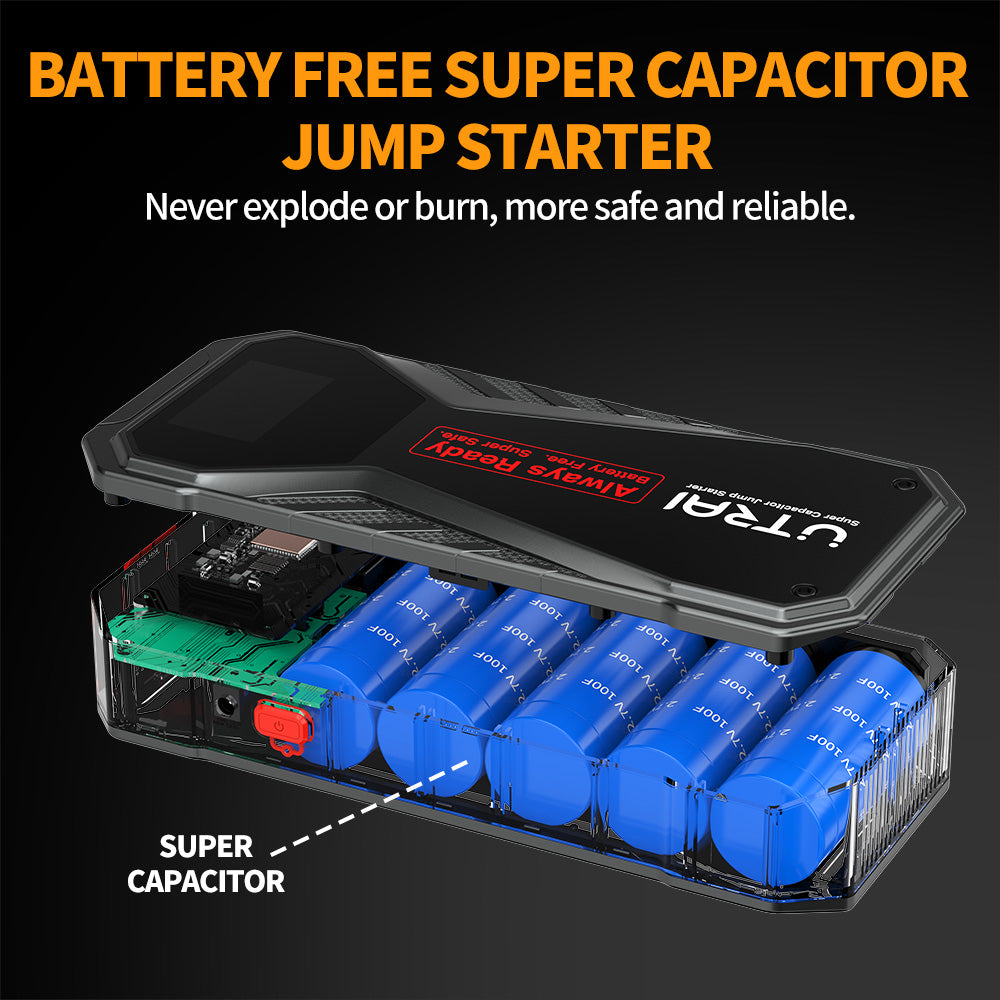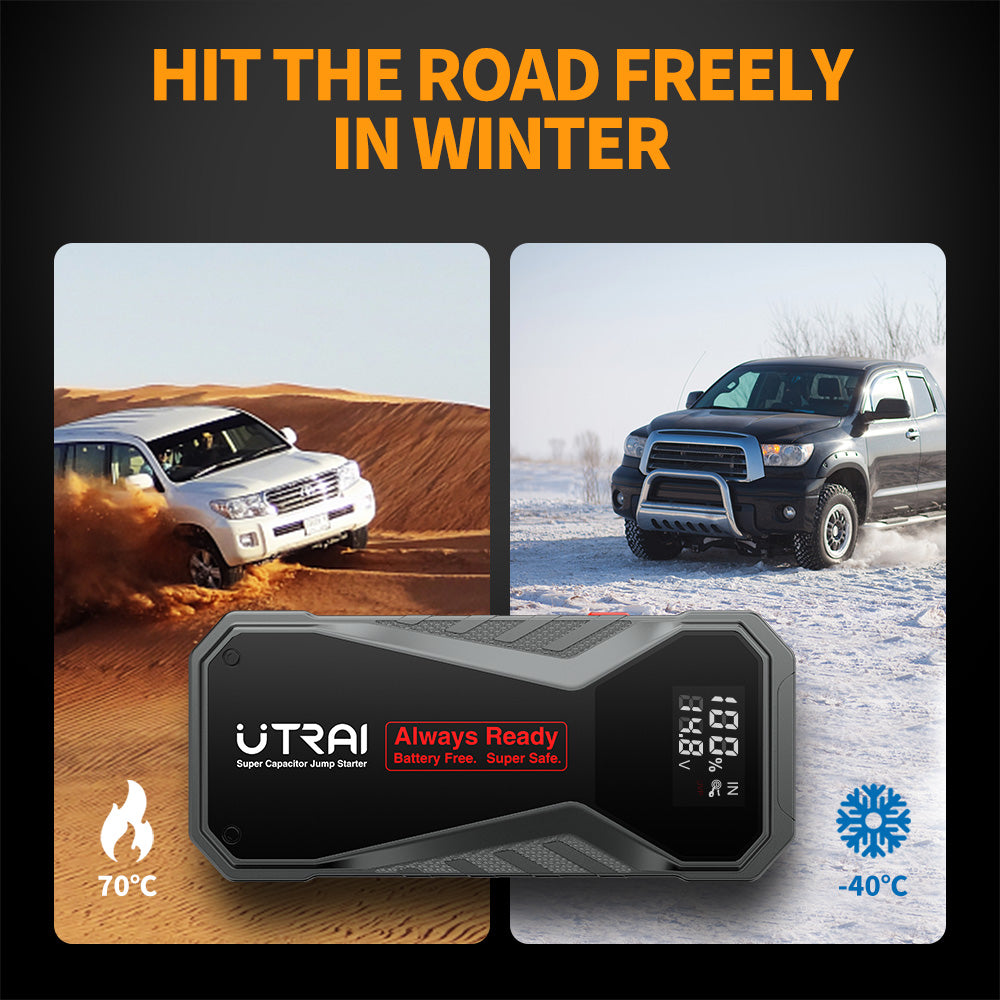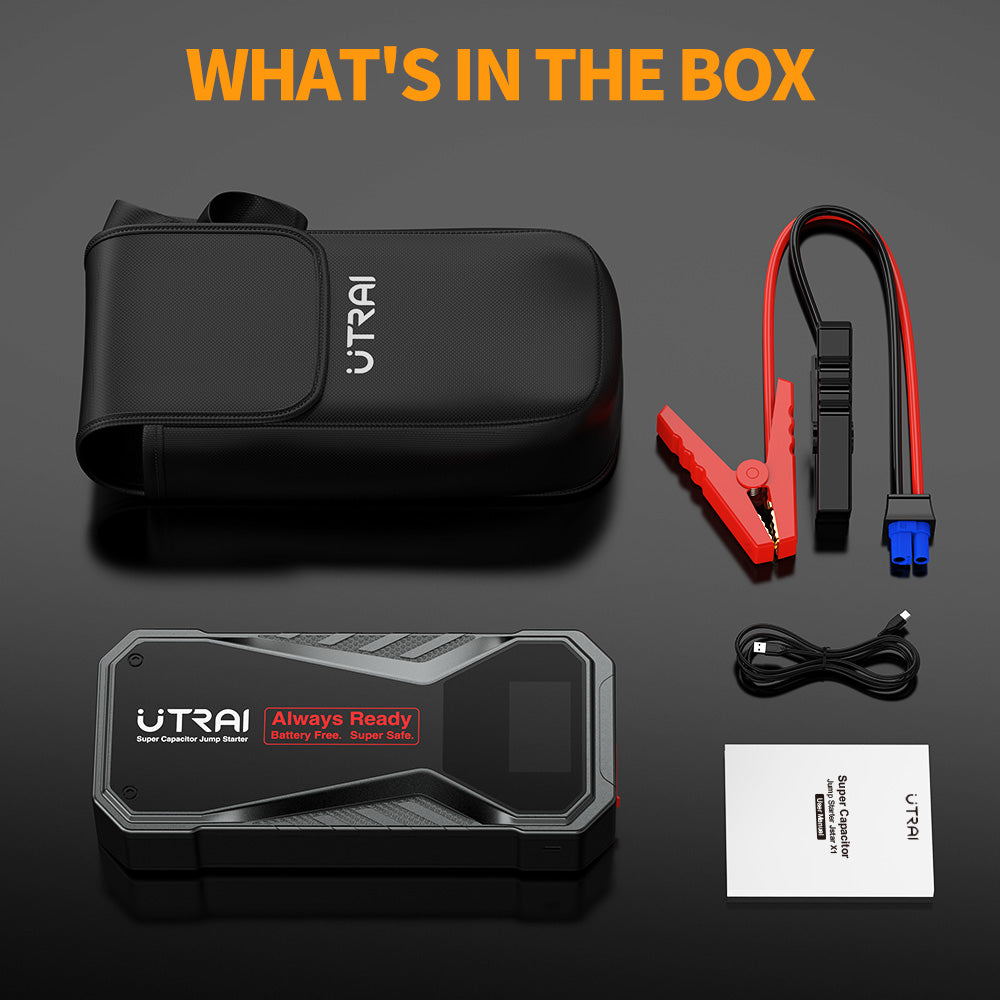 Super Capacitor Jump Starter X1
ユニークなスーパーキャパシタ技術、通常のリチウム電池ジャンプスターターのように定期的にプリチャージする必要はありません、クイックスタートあなたの車を3分。
より安全で信頼できる。スーパーキャパシタは、高温、落下または条件を揺さぶるの下で火をキャッチ、膨らみ、爆発することはありません。暑い夏でも、Jstar X1を車に積んでおけば、心配いりません。
8.0Lディーゼルエンジン、7.5Lガスエンジンに対応する1000Aピーク電流。
凍てつくような寒さの冬でも、死んだ車を簡単に始動させることができます。寒い冬を乗り切れるようになります。
Super Capacitor Jump Starter X1
Battery Free. Super Safe. Always Ready to Start!
Unique Super Capacitor Technology
Different from the ordianry lithium battery jump starters, X1 doesn't use lithium battery but super capacitors. When super capacitor is fully charged, it will quickly drain to 0 within 24 hours, so it won't catch fire, bulge and explode under high temperature, dropping or shaking conditions. Free you from worry when store X1 in your car even in hot summer.
More Than Just Starting Cars
It can start most of 12V engines. Enable to start different vehicles like car, SUV, RV, Pick-up, motorcycle, snowmobile, and even lawn mower.
3 Mins Quick Recharge for Jump-start
No need to recharge for hours in advance like lithium battery. X1 can fully recharge from your car battery in 3 mins then start your car. More convenient than battery jump starters, always ready to start your vehicle anytime anywhere.
Completely Dead? Worry-free!
Even when your car battery is completely dead and unable to charge X1, you can charge X1 by USB-C and DC port or other car battery.
Smart Multiple Protections
Using the jumper cable sometimes will cause sparks and damage to the car battery due to improper operation. X1 comes with smart multiple protections, it will automatically trigger safety protection and issue reminders when detects short circuit, high voltage, overload and more to protect your safety and car battery.
Hit The Road Freely Even In Winter
The dead car causes you to be late for work in winter morning? X1 can start your dead car even in cold freezing winter. Never get stuck in cold winter again.
Hassle-free Maintenance
Super capacitors doesn't need to regularly charge and discharge to maintain battery performance like lithium battery. Just put it in your car, save you the hassle of maintenance.
Built to Last
The capacity and performance of lithium battery will degrade over time, it generally have a lifespan of 3-5 years. But super capacitor won't degrade over time, it often can be used for more than 10 yeas.
Always at Your Fingertips
X1 is easy to carry and store in trunk, glove box and door storage compartment. Start your vehicle anytime anywhere!
Easily Start in 3 Steps
No need to wait for roadside assistance. "Plug, Clip and Start", it takes only 3 steps to quickly start your car on your own.